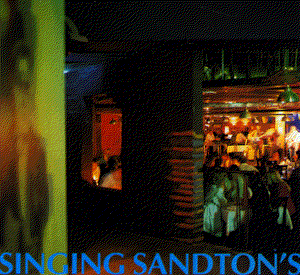 Encouraging trend: Foreigners Buy Their Way Into Gauteng Venues. One cool Australian has ensconced himself in Mama's Shebeen while George Worthmore, an ex-New York blues guitarist, has bought into the Blues Room. In November last year the Blues Room shifted premises from lllovo to Black Orchid's old spot, below Sandton's Village Walk. The new space has all the authenticity of a New York Blues bar and the swishness of a Big Band supper club: low lighting, raw brick walls and white tablecloths set against the wail of harmonicas and the groove of grinding guitars. "It's an upscale place," Worthmore tells me in his distinctive Big Apple drawl. "Kinda place you can bring a date without worrying about getting shot at or vomited on."
Worthmore's been in the music business for 30 years, and having played with Bo Diddley, Ben E. King and Screamin' Jay Hawkins, is a well seasoned blueso. After the stress of New York, Johannesburg, he says, is a gracious place to be. Blues Room's bill is a mix of local and foreign acts. The costs of bringing out American bands pushes the couvert charge to R30; while local acts like Robin Walsh and Joe Blu run at R20. "You can talk through the first one and a half sets," Worthmore says, "After that you're up and dancing."
The crowd is thirty plus, smart casual and more integrated than at most venues. "There's a Jewish family who come here Friday nights," the manager tells me. "They get candles and kitke bread and they have their dinner here."
If you aren't doing Shabbat Blues, there's an international menu that ranges from Cajun to carpaccio with a great Thai beef dish. Otherwise there's a full bar.
Ultimately however, it's about the music. "The Blues has its roots in Africa," says Worthmore. "So it's only right that it should be played here." Worthmore and his band The Divebombers will be in action in March - the Blues Room is always in action, except Sundays and Mondays.
The Blues Room. Tel 784 5527/8.